Cedar Valley Golf Club
---
Tee Times
Book by Phone - Call us at (405) 282-4800
---
Course Rates
Call 405-282-4800 for prices
Tuesdays & Thursdays are
ALL-DAY Green Fees
(Year Round @ both courses)
---
About Cedar Valley Golf Club - 36 Holes
The Cedar Valley Golf Club in Guthrie features two, par 70 championship courses, a driving range, putting green and a PGA professional on site. The Augusta and International courses offer plenty of golf for players of all levels. Enjoy the beautiful scenery while playing a round with friends, and then head over to the on-site pro shop for golf clothing, shoes and the latest in golf equipment.
Sit and relax after a game of golf at The Valley Bar and Grill, the bar at Cedar Valley Golf Club. Beverage carts run seasonally on Saturdays and Sundays, and portable ice chests are available at the bar. If you work up an appetite on the courses, pull up a chair at The Valley Bar and Grill, located on-site. Featuring cooked-to-order breakfast and lunch, this restaurant also offers a spacious dining area, scenic views of the golf course and some of the best burgers in Logan County.
These tracks provide plenty of golf for players of all levels and tons of beautiful scenery. Our rules are pretty much like those you will find at most courses. A shirt with sleeves, let faster folks play thru, soft spikes on the shoes, no more than five players per group, every player needs a set of clubs, only two players per cart, and credit cards and cash are acceptable payment. Personal coolers are not allowed but "The Valley Bar and Grill", our lounge, can fix you up with an iced cooler to go with your beverage of choice. Just check in with the starter and you're off!
Book a Tee Time! Contact Us / Directions
---
Practice Facility
The practice area at Cedar Valley Golf Club offers a large driving range and two practice greens. Perfect for the golfer looking to hone in on their golf game.
---
Tournaments
Cedar Valley Golf Club is home to many golf tournaments. We would love to host yours. We can provide many things to make your event go smoothly such as cart cards, personalized scorecards, score sheets in the clubhouse, proximity marker pins for contests, beverage service, food service, award presentation area, and most anything else you need for a golfing event. All at competitive pricing.
Benefits:
Tournaments - Large & Small
Two Championship Courses
Food & Beverage Services
Driving Range & Putting Greens
Call Jeff Martin or Claudia Flesner today to set up your event (405-282-4800) or click on the button below to fill out our online tournament info request
Learn More About Hosting a Tournament Golf Tournament / Outing Info Request
---
Score Card
Augusta Course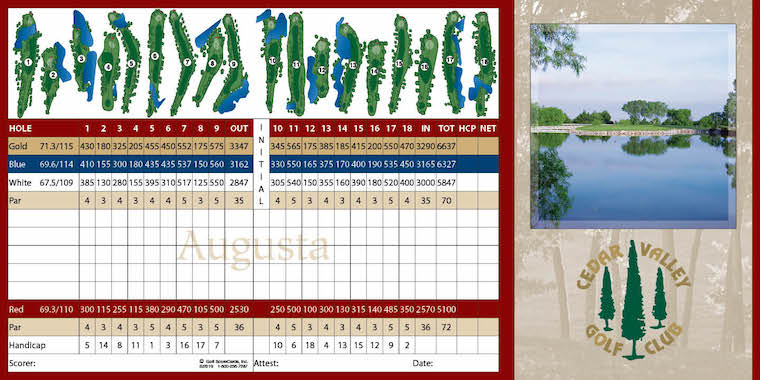 International Course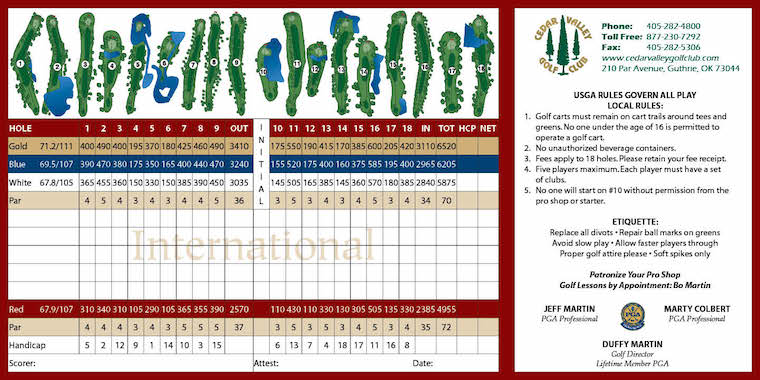 ---
Our Pro Shop
The Cedar Valley Pro Shop is Another stop on your go-to visit. We stock a variety of name brand golf equipment and apparel and accept most major credit cards and cash. It's never a problem to find just the thing you need with that gift certificate whether large or small. Scroll down to see what we have to offer.
---
Photo Gallery
Click on image below to enlarge: